产品展示

网站首页 > 产品中心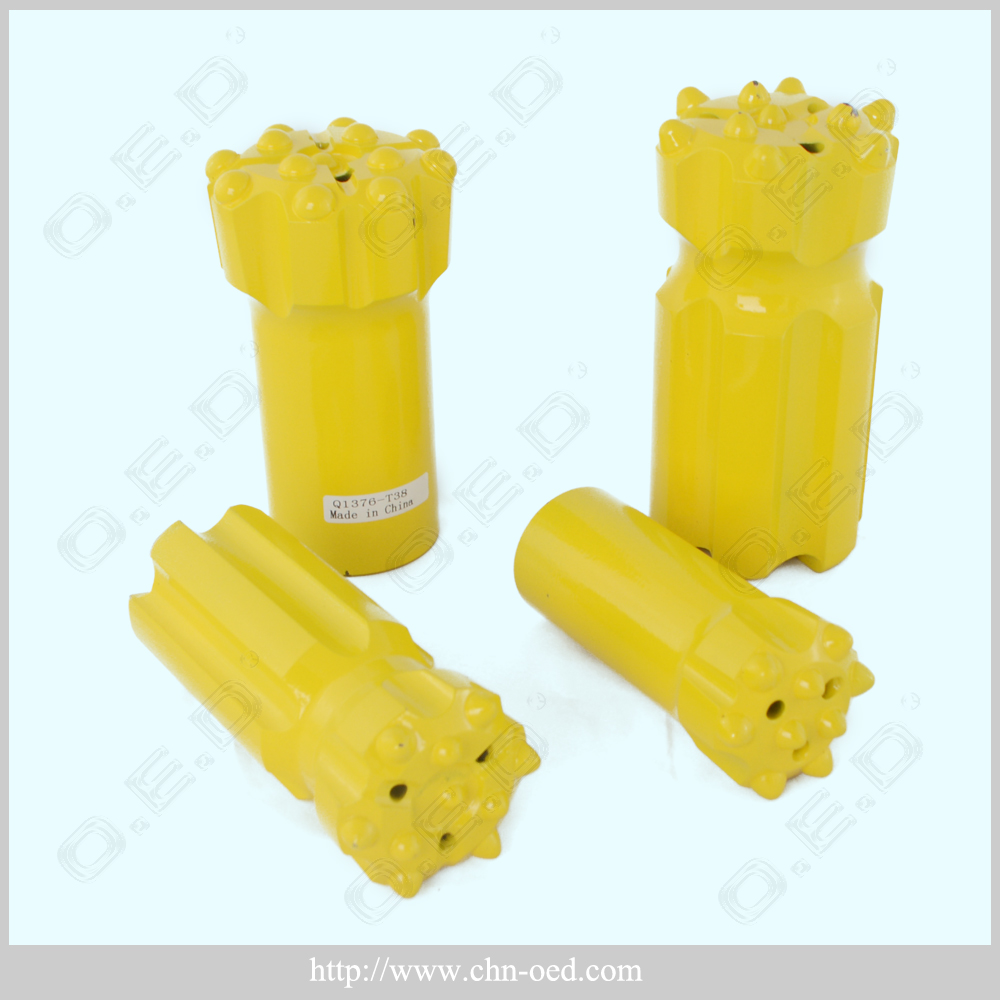 螺纹钻头
产品编号:Ml001
产品描述:Retrac Rock Drill Thread Button bits tungsten carbide 64mm button drill bit threading T38 Bench drilling rock drill bit, T38 Retrac Thread Button bitswith Tungsten carbide 102 T45T51 tungsten carbide rock drilling tools thread buttonbit China exploration rock drilling tools thread concave tungsten carbide rock drill bits R32, R38, T38, T45, T51 Retrac&Standard Thread Drill Bits 76mm T38 spherical tungsten carbide button bit thread hard rock drilling bit T45 thread drill bits matched with hydraulic drifters/mining machine parts T38 T45 T51 Thread Rock Button Drill Bit T38-64mm spherical button thread drill bit with Concave face

Features:
Thread button drill bits are made by high quality alloy steel barand tungsten carbides. Through heat treatment, our drilling tools are toughenough to meet rock drilling demands and have the least loss of energy whiledrilling the rocks. Besides, we can design customized thread button drill bitsaccording to different drilling application, and custom drill bits areapplicable to drill soft rock, loose-medium rock and hard rock.
(1)Thread: R22, R25, R28, R32, R35, R38, T38, T45, T51, ST58, T60
(2)Diameter: 38-127mm.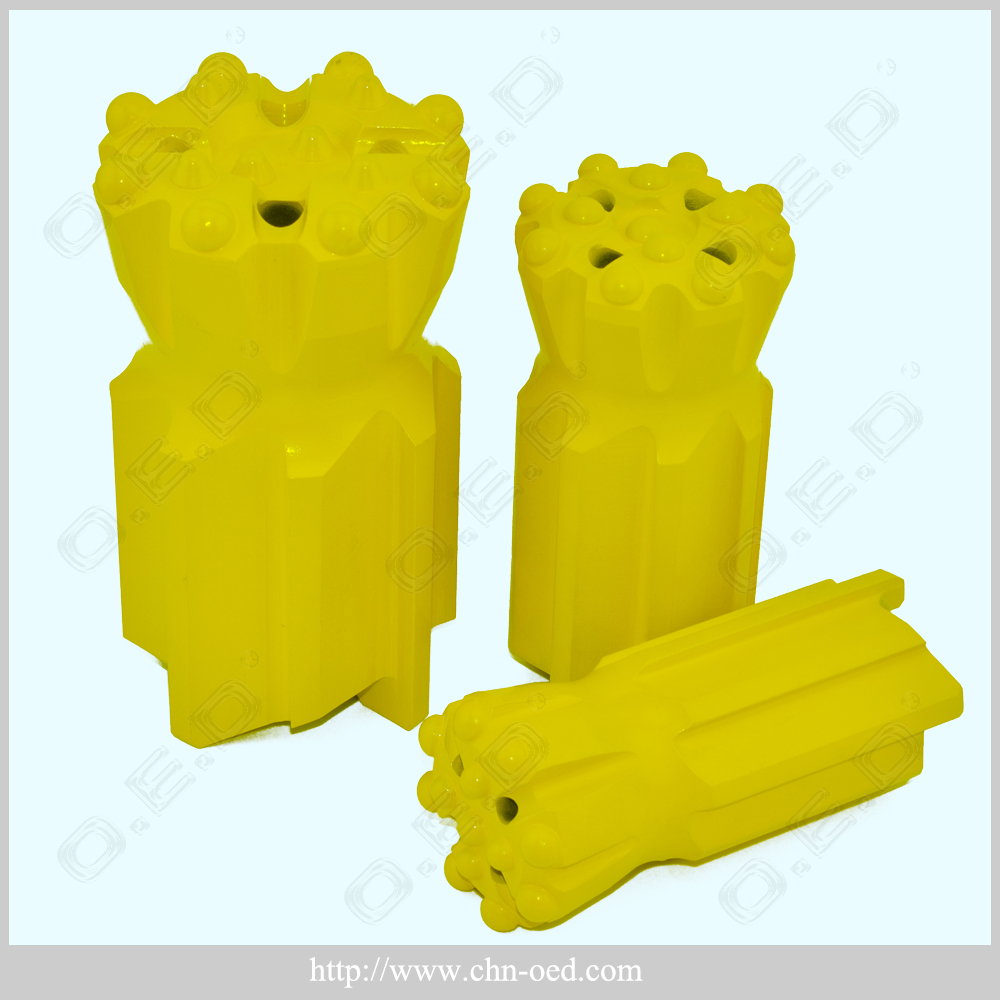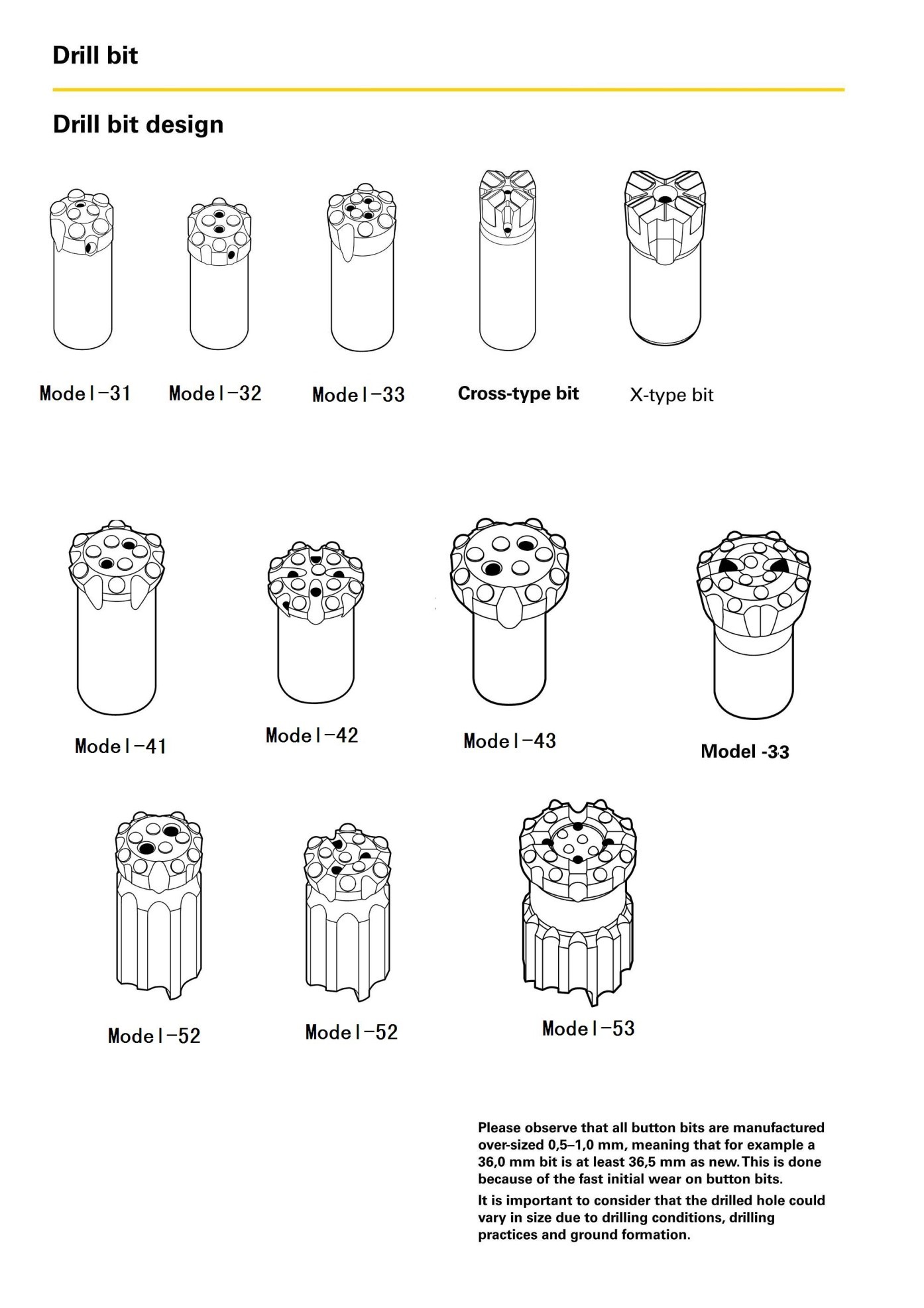 R32 drill bit
Diameter

No. of Buttons

Buttons*Button Diameter (mm)

Gauge Buttons Angle°

Flushing Hole

Weight Approx. Kg

mm

Inch

Gauge

Centre

Side

Centre

41

1 5/8

7

5*9

2*8

35°

1

1

0.9

41

1 5/8

6

4*9

2*9

35°

2

1

0.6

43

1 11/16

7

5*9

2*9

35°

2

1

0.7

43

1 11/16

9

6*9

3*8

40°

1

3

0.8

45

1 3/4

7

5*11

2*8

30°

2

1

0.8

45

1 3/4

9

6*10

3*8

30°

1

3

0.8

48

1 7/8

7

5*11

2*9

35°

2

1

0.8

48

1 7/8

9

6*10

3*8

40°

1

3

0.9

51

2

7

5*11

2*11

35°

1

1

0.8

51

2

9

6*10

3*9

40°

1

3

0.9

57

2 1/4

9

6*11

3*9

35°

-

3

1.1

64

2 1/2

12

8*10

4*10

40°

-

2

2.2

64

2 1/2

10

6*11

3*10, 1*10

35°

-

3

2.2

76

3

12

8*11

4*11

40°

-

2

1.8

76

3

13

8*11

4*11, 1*11

35°

1

4

3.4

Cross-Type Bit

Insert

Width (mm)

Height (mm)

43

1 11/16

11.1

20.0

2

1

0.8

45

1 11/16

11.1

20.0

4

1

0.8

48

1 7/8

14.0

22.0

4

1

1.1

51

2

14.0

22.0

4

1

1.7

54

2 1/8

15.8

29.0

2

1

1.2

57

2 1/4

10.3

19.5

4

1

1.3

64

2 1/2

10.3

19.5

2

1

1.4
R/T38
Diameter

No. of Buttons

Buttons*Button Diameter (mm)

Gauge Buttons Angle°

Flushing Hole

Weight Approx. Kg

mm

Inch

Gauge

Centre

Side

Centre

64

2 1/2

12

8*10

4*10

40°

-

2

1.6

64

2 1/2

9

6*12.7

3*11

35°

1

1

1.9

64

2 3/4

10

6*11

4*10

35°

1

2

1.6

70

2 3/4

12

8*11

4*11

40°

-

2

2.0

70

2 3/4

11

6*12.7

5*11

35°

2

1

2.3

76

3

12

8*11

4*11

40°

-

2

3.1

76

3

11

6*12.7

5*11

35°

2

1

2.5

76

3

10

6*12.7

3*11,1*11

35

1

3

2.6

76

3

13

8*12.7

4*11,1*11

35

-

4

3.3

89

3 1/2

12

8*12.7

4*12.7

40°

-

2

3.2

89

3 1/2

13

8*12.7

4*11,1*11

35°

-

4

3.0

102

4

12

8*14.5

4*14.5

40°

-

2

4.0

102

4

14

8*14.5

6*12.7

35°

1

4

4.3

102

4

13

8*14.5

4*12.7,1*12.7

35

-

4

3.9

127

5

19

18*12.7

1*12.7

35

1

3

5.2
T45
Diameter

No. of Buttons

Buttons*Button Diameter (mm)

Gauge Buttons Angle°

Flushing Hole

Weight Approx. Kg

mm

Inch

Gauge

Centre

Side

Centre

70

2 3/4

10

6*11

3*11, 1*9

35°

-

3

2.1

76

3

12

8*11

4*11

40°

-

2

2.8

76

3

11

6*12.7

5*11

35°

2

1

2.6

76

3

13

8*12.7

5*11

35

1

2

2.7

76

3

14

8*12.7

4*11,2*11

35

2

2

2.4

76

3

10

6*12.7

3*11,1*11

35

1

3

2.6

76

3

13

8*12.7

4*11,1*11

35

-

4

3.0

89

3 1/2

12

8*12.7

4*12.7

40°

-

2

3.3

89

3 1/2

14

8*12.7

6*11

35°

1

1

3.8

89

3 1/2

12

8*12.7

4*12.7

40°

-

2

5.0

89

3 1/2

16

10*11

6*11

35°

1

4

3.0

89

3 1/2

14

8*12.7

6*12.7

35°

1

2

4.7

89

3 1/2

11

6*12.7

3*11,2*11

35°

1

3

3.5

89

3 1/2

14

8*11

4*11,2*9

35°

1

4

4.7

89

3 1/2

13

8*12.7

4*11,1*11

35°

-

4

3.0

102

4

12

8*14.5

4*14.5

40°

-

2

6.7

102

4

14

8*14.5

6*12.7

35°

1

4

4.1

102

4

11

6*14.5

3*12.7,2*12.7

35°

1

3

3.9

102

4

14

8*12.7

4*12.7,1*12.7

35°

1

4

7.0

102

4

13

8*14.5

4*12.7,1*12.7

35°

-

4

6.4

115

4 1/2

14

8*14.5

6*14.5

35°

1

4

5.8

115

4 1/2

14

8*14.5

4*12.7,2*12.7

35°

1

4

9.0

127

5

14

8*15.8

6*15.8

35°

-

4

6.6

127

5

19

18*12.7

1*12.7

35°

1

3

5.3

152

6

20

18*14.5

2*14.5

35°

1

3

9.9
T51
Diameter

No. of Buttons

Buttons*Button Diameter (mm)

Gauge Buttons Angle°

Flushing Hole

Weight Approx. Kg

mm

Inch

Gauge

Centre

Side

Centre

89

3 1/2

12

8*12.7

4*12.7

40°

-

2

4.8

89

3 1/2

14

8*12.7

6*12.7

35°

1

2

5.3

89

3 1/2

11

6*12.7

3*11,2*11

35°

1

3

3.6

89

3 1/2

14

8*11

4*11,2*9

35°

1

4

4.7

89

3 1/2

13

8*12.7

4*11,1*11

35°

-

4

4.9

102

4

12

8*14.5

4*14.5

40°

-

2

7.1

102

4

14

8*15.8

6*12.7

35°

1

2

5.1

102

4

11

6*14.5

3*12.7,2*12.7

35°

1

3

5.1

102

4

14

8*12.7

4*12.7,1*12.7

35°

1

4

7.2

102

4

13

8*14.5

4*12.7,1*12.7

35°

-

4

5.3

115

4 1/2

17

9*14.5

8*12.7

35°

2

1

9.8

115

4 1/2

14

9*15.8

4*14.5,2*14.5

35°

-

4

6.0

115

4 1/2

16

9*14.5

4*14.5,1*14.5

35°

-

3

9.7

127

5

20

10*14.5

10*12.7

35°

-

2

6.8

127

5

16

8*15.8

8*14.5

35°

1

2

6.8

127

5

14

8*15.8

6*15.8

35°

-

4

8.0

127

5

16

8*14.5

6*14.5,4*11

35°

1

4

11.2

127

5

14

8*15.8

4*15.8,2*12.7

35°

-

4

11.0

140

5 1/2

14

8*15.8

6*15.8

35°

-

4

9.4